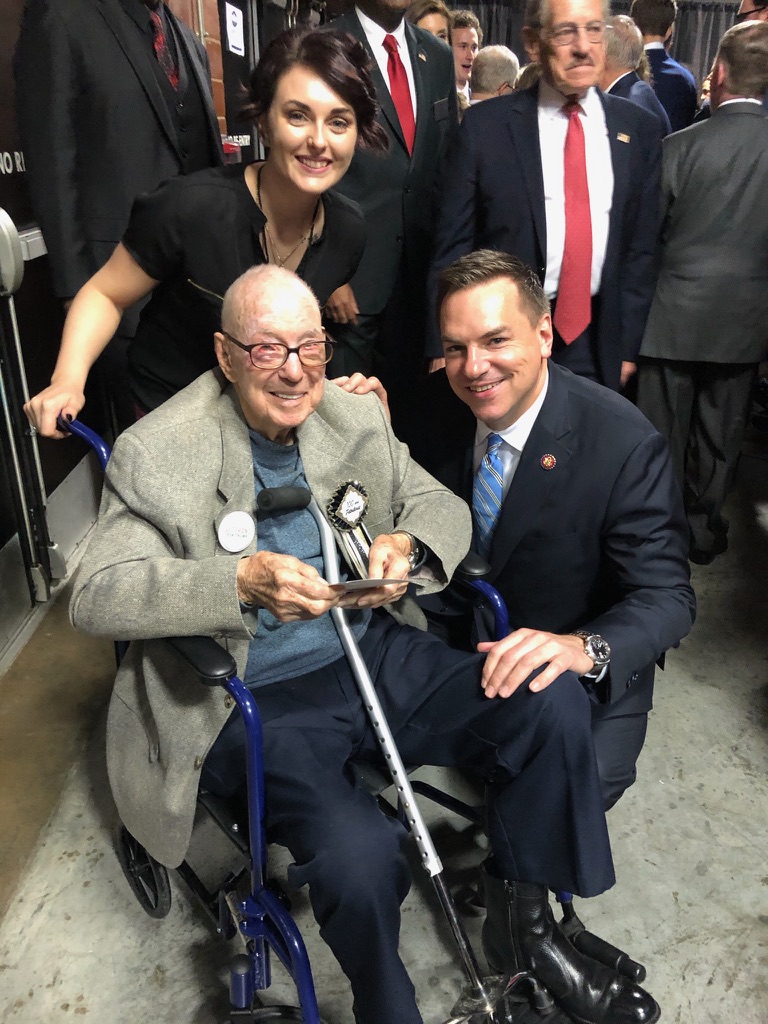 A veteran from Kannapolis who recently celebrated his 100th birthday got some special recognition from Commander-In-Chief Donald Trump at a rally held in Charlotte on Monday night.
"We're also honored tonight to be joined by a true American hero. A veteran of World War Two and the Korean War who just turned 100-years-old, and his name is George Washington Perry…legit," President Trump said. "George, thank you very much for being here, thank you George, 100-years-old."
"When I heard about George "Buck" Perry's life of service and his 100th birthday last month, I was honored to enter remarks into the Congressional Record honoring his commitment to our nation during WWII," Hudson said. "When I heard he had two wishes on his 100th birthday — to renew his drivers license one more time and to meet President Trump, I thought the timing couldn't be more perfect since we had a rally scheduled for March 2nd. I'm proud to report mission accomplished."
Hudson added that President Trump signed a photo for Buck while on Air Force One prior to the rally, and Buck was also able to fulfill his goal of meeting President Trump backstage.
The political tug of war over gerrymandering of congressional districts was settled on Dec. 2 by a North Carolina Appeals Court decision that leaves congressional districts as they were drawn by the Republican-led state legislature. That means a change for voters in most of Harnett, parts of Johnston, Lee, Moore and all of Cabarrus, Stanly, Montgomery and Cumberland counties, who now make-up the 8th U.S. Congressional District. It also means a new face will be representing most of those voters in Washington, D.C.
Current 8th District Congressman Richard Hudson, who officially filed to re-gain his seat shortly after the new districts were declared valid, visited Dunn recently in an effort to bring awareness to residents of the pending changes to their representation. Hudson has served as the representative for the district since 2013.
"My philosophy is if I'm you're a congressman, I need to know you and you need to know me," Hudson said. "So, I got here as soon as I could."
Voters will have a bit of a foggy path to travel until the changes take effect. While voters in the re-drawn 8th district will choose their representative in the 2020 primary and general elections, the candidates chosen and eventually elected, won't actually represent the new district until it becomes official in January of 2021.
"I'm going to represent my old district until January 3, 2021," Hudson said. "I'll be campaigning here, but if you need help with the federal government, I'm not legally allowed to help you until then. It's going to be confusing for people because they're going to see my ads and my signs thinking they can come to me, but I'm not really allowed to help them. But I can help direct people and we won't turn anybody away."
Hudson defines himself as "a conservative, but common sense person who likes to get things done."
He is ranked as the 12th most conservative member of the House by the National Journal, he also carries another distinction according to one survey that dubbed him the "most effective North Carolina Congressman."
The University of Virginia and Vanderbilt University did a study on the subject and Hudson was rated as most effective among all Republicans and Democrats in the state.
"I think I demonstrate you can stand on principle," he said. "But you can also reach across the aisle and get things done for the people."
Among his duties in the house, Hudson serves on the Energy and Commerce Committee as well as on sub-committees for health care, energy and digital privacy.
As far as a primary focus currently, Hudson says veterans and the military are high on his list. Fort Bragg sits in the heart of his district. That fact, combined with the large number of veterans who have made North Carolina their home, has made Hudson want to focus on them and the issues concerning them, he says.
"We probably have more veterans in this part of the country than anywhere," he said. "Then, I represent the largest Army base in the world, Fort Bragg, the epicenter of the universe, and that's a big priority for me: making sure we're giving those men and women everything they need to do their jobs well, get home safely and also take care of their families."
Hudson spoke on the latest efforts by the House to pass a needed spending bill. He noted a continuing resolution, which allowed spending to continue temporarily at current levels, was recently passed. That handcuffs the military, though, and doesn't afford them the chance to start new programs or get needed funding increases, he said. It expires on Dec. 20.
"When we do continuing resolutions, in which we say keep spending at the same levels as last year, it's devastating to the military," Hudson said. "They can't start new programs, they can't buy new systems. It's really bad news for our troops."
Hudson said the largest obstacle to get a new spending bill passed comes in the ongoing argument between Democrats and Republicans over funding President Donald Trump's border wall. He said the stalemate has led to a lack of negotiation between the two sides.
"The biggest sticking point is the Democrats in Washington refuse to give the President any money for the border wall," Hudson said. "And if there's no wiggle room there, there's no negotiations. I don't know how you get out of that."
He quotes former North Carolina Senator Jesse Helms when speaking about the matter.
"At the end of the day you've got to compromise," he said. "As Senator Jesse Helms, one of my heroes, used to say 'I won't compromise my principles, but I will compromise my preferences' and at the end of the day you've got to be willing to compromise some of your preferences and come back and fight for more later."
Hudson says the ongoing impeachment inquiry by Democrats is hindering efforts to resolve other issues, just as important, if not more. He says the focus is preventing getting anything done.
"They're so focused on that, we're not getting things done like funding the government," Hudson said. "There's a lot of things we can agree on like funding infrastructure, like dealing with drug pricing. There's so many things that we could be doing that Democrats and Republicans can agree on that the people here expect us to be doing, and that's the frustration for me."
After filing for reelection on Dec. 2, Hudson released a statement.
"I'm running for reelection to continue to be a conservative, common sense voice for the people of North Carolina's 8th District," Hudson said. "I've always been clear on my priorities for the district – creating an environment where folks can find good-paying jobs, rebuilding our military and being a voice for our veterans. I look forward to continuing to share our positive message from Cumberland to Cabarrus and everywhere in between."
As bright skies and warm temperatures evaporated lingering puddles on Tuesday, Rowan County's two congressmen took time to learn how locals fared during the weekend storm.
Reps. Richard Hudson, R-8, and Ted Budd, R-13, were briefed on county impacts by Chief of Emergency Services Chris Soliz.
Across the county, 264 storm-related phone calls have been recorded since the weather began late Friday. Most of these have addressed down power lines, trees and similar hazards.
Some 147 field reports have been collected by what Soliz called "field liaisons," identifying areas with high flooding and other storm-related issues.
"We had all these different departments here," said Soliz as he showed the two men Rowan's Emergency Operations Center, established to prepare for and respond to Hurricane Florence as it approached. "… In this situation, everybody dropped titles and we were all one team."
The Pinocchio Test
Pelosi's tweet focuses on a possible loophole in the law and then uses inflammatory language such as "inviting."
But the reality is that most states already allow for reciprocity agreements with other states. Federal law also already prohibits violent criminals, abusers and stalkers from having guns; the issue is that some states already have tougher laws than at the federal level that could be overridden by permits from more lenient states. Still, the differences among most states may loom larger in the gun debate than in reality.
Pelosi's tweet inspired such anger because responsible gun owners believe their rights are being curtailed, even if they follow the concealed-carry rules — while violent criminals who want to have a gun are not going to be bothered with following such rules in the first place.
We wavered between Two and Three Pinocchios but ultimately settled on Three because her last line — "the @HouseGOP just voted to do exactly that" — is so over the top and exaggerated. One can have a respectful political debate, raising the issue of a lower common denominator for concealed-weapons permits, without accusing the other side of voting to let violent criminals and stalkers have guns.
Three Pinocchios
NAEMT will present Rep. Richard Hudson (R-NC) with the 2017 EMS Legislator of the Year Award on April 25 during EMS On The Hill Day, the largest national advocacy event for emergency medical services (EMS) professionals.
This prestigious award recognizes a member of Congress who demonstrates an outstanding commitment to, and support of, high quality prehospital and emergency medical care, as well as the EMS professionals who dutifully serve our nation's patients.
Read the full article here…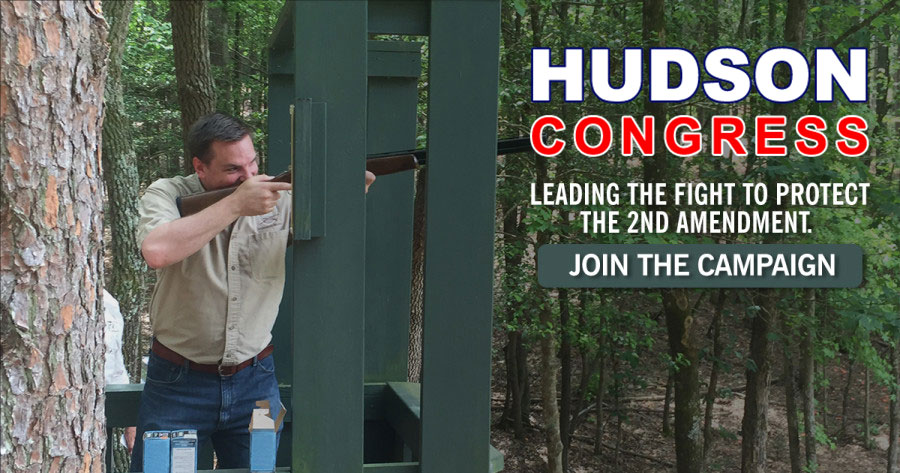 Rep. Richard Hudson, R-N.C., joined NRATV's Grant Stinchfield Wednesday to give an update on the push for national reciprocity: "We have 129 co-sponsors, including three Democrats. So, I feel like we're moving along very well with it," he said.
Hudson introduced the Concealed Carry Reciprocity Act of 2017 on Congress' first day in session for 2017. The bill, also known as H.R. 38, would eliminate the disorder of state carry laws by allowing individuals who have a license to carry permit from their resident state to exercise those rights across state lines.
"We're using this time to prepare, to build support, and when we get our window of opportunity later this year, we're going to take it," assured Hudson.
Filed just over a month ago, legislation to treat concealed carry permits like drivers' licenses nationwide is gaining steam in Congress but picking up opponents.
Introduced by U.S. Rep. Richard Hudson, R-NC, and 63 co-sponsors on the first day of session in the new House, Indiana Republican Trey Hollingsworth became the 150th lawmaker to lend his name to the measure last week.
Hudson has taken to the airwaves repeatedly in the last several weeks to stump for his proposal and push back against what he sees as misinformation about his legislation.
"It's flat out false to say that this bill will arm criminals or increase gun violence," wrote Hudson in an op-ed published in U.S. News on Feb. 1. "If a criminal with malice wants to get a gun, I can guarantee he or she isn't worried about following the laws on the books. Unfortunately, we can't change that. But we can ensure law-abiding citizens can legally carry concealed firearms to defend themselves."
"There's no disagreement among Republicans that we're going to repeal Obamacare." Those are the words of Rep. Richard Hudson (R-NC 08) in an exclusive appearance on the "What Matters in North Carolina" podcast on January 5, 2016.
During the interview, Hudson affirmed that the mood among his colleagues is in fact that repealing the monstrosity officially known as the Affordable Care Act is a priority. Hudson continued,
Of course saying that Obamacare is going to be repealed and replaced is just the starting point, but Hudson said it is a conversation that House Speaker Paul Ryan (R-Wisconsin) and President-elect Donald Trump began to have immediately following the election in November.
There are procedural questions and issues that will have to be navigated in order to undo a law that has been in place for nearly seven years. Hudson said, "Right now it's a matter of timing and sequence. What you'll see is a bill move very quickly through the House and Senate to repeal Obamacare, using a budget process called reconciliation. This is a process that allows a vote that can't be filibustered in the Senate, so 51 votes can pass it."
A similar bill was sent to President Obama last year which he vetoed. Hudson said that the Senate will likely start the process with their bill next week, and that a bill could be on President Trump's desk in February. But, the process is not as cut and dry as it may seem.
Hudson said that because of Senate rules attached to budget reconciliation bills, a repeal and full replacement of Obamacare cannot be done in the same legislation. Hudson said that there could be some replacement language in the form of expanding Health Savings Accounts.
However, the tax penalties which have been so onerous to many Americans may be addressed in the repeal bill. Hudson said, "My hope is that you'll see a zeroing out of those tax penalties." Additionally, Hudson said that President Trump is set to begin unwinding Obamacare.
Hudson said, "Vice-President-elect Mike Pence spoke to House Republicans yesterday, [Wednesday, January 4, 2016], and he told us that President Trump is going to start immediately through the executive order process, through the administrative process of replacing Obamacare and doing the things they can do. For example, having an HHS Secretary remove some of the restrictions on insurance companies on plans, some of the requirements they can do administratively, they'll start that right away, as well."
Hudson, who serves on the House Energy Commerce Committee, said that the committee will start hearing before the end of the month on what a replacement to Obamacare will look like. Hudson said that HR 2300, which has been introduced the past three years is the basic blueprint for what replacement will look like.
Hudson said, "The basic components of it are, Health Savings Accounts, allowing insurance companies to compete across state lines, giving tax credits to individuals who buy insurance, transparency of cost so that you know what things cost before you go have a procedure, tort reform. These are all the things we'll be doing and they'll probably start as individual legislation."
Pulling the rug out from under a massive law like the Affordable Care Act is ultimately not going to happen, as Hudson noted that the repeal that is likely to be on Trump's desk in February will be a phased-in two or three-year repeal. Hudson said, "As Mike Pence said yesterday, we need to make sure we have an orderly transition so that we don't disrupt markets, so that we don't disrupt families. If there are folks out there that have health care through Obamacare they don't need to have anxiety that they're going to lose that coverage."
Hudson added, "There will be a time period that we will have to put that new health care reform in place, before Obamacare goes away. But, Obamacare will be eliminated with that legislation that's going to pass next month." Ultimately Hudson said that they want to get it right, and have real conservative healthcare reform that will help people.
Click here to listen to the full interview on "What Matters in North Carolina" with Rep. Richard Hudson, including his thoughts on the bill he filed on National Concealed Carry Reciprocity.
"I'm comfortable in my own skin," he says. "I'm not afraid to have a discussion with someone who has a different view."
He supports bipartisan legislation related to identifying new jobs needed in the energy sector; putting more money into "21st century cures" for disease research; and reforming mental health. And unlike Ellmers, who only ever advocated repeal of the Affordable Care Act, Hudson at least supports an alternative.
Hudson over the years has learned that he can maintain certain core values, and yet compromise is not always a bad thing. "I'm willing to vote for a bill that has three things I don't like," he says, "if it has four things I do like."
We don't — and won't — agree on every issue with Hudson, but we believe there's a better, more sensible nature to him that will serve Moore County well. He'll ensure that, when a constituent calls his office for help, there won't be an accompanying voter registration check.
Richard Hudson will be a solid voice for Moore County in Congress.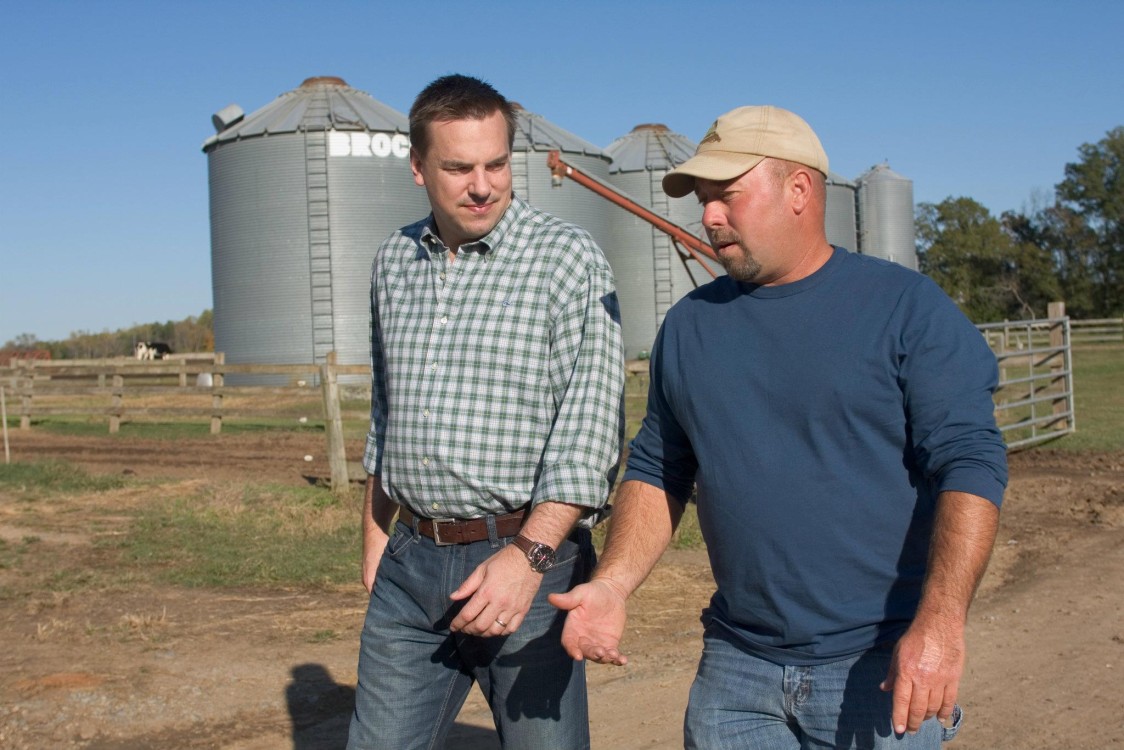 WASHINGTON
Republican U.S. Rep. Richard Hudson and his Democratic challenger, Thomas Mills, agree on trade and terrorism, but not on much else in the North Carolina District 8 race.
The incumbent and his challenger say they value fair trade over free trade. They are both wary about the Trans-Pacific Partnership agreement, which would broaden trade between the United States and a dozen countries on the Pacific Rim. Both say the pact reminds them of another trade deal, the North American Free Trade Agreement, which they blame for the loss of many Carolinas textile jobs.
"I do understand that for our employers and for our agriculture, which is our number one industry in North Carolina, we do need foreign markets, and we do need to have trade agreements, but we need to be smart about it," Hudson said.
Read more here: http://www.charlotteobserver.com/news/politics-government/article102948667.html#storylink=cpy