STAFF REPORT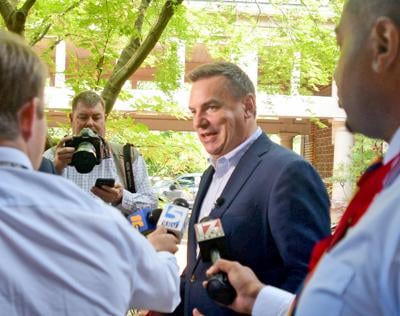 With newly drawn congressional maps keeping his district leaning safely Republican, U.S. Richard Hudson announced this week he will seek re-election.
Hudson, who lives in Southern Pines, represents District 9, which extends as far north as the Guilford-Rockingham County line and as far south as the Hoke-Robeson county line. The district includes all of Moore, Randolph, Hoke and Alamance counties and parts of Chatham, Cumberland and Guilford counties.
A Republican, Hudson was first elected to Congress in 2013. He already has amassed a solid campaign fund, with $2.1 million cash on hand. He reported raising $540,000 in the last quarter alone.
"As your Congressman, I am proud to have worked alongside President Donald Trump to make America the most prosperous and safe country on Earth," said Hudson. "But Joe Biden's failed leadership is destroying all of that work. I want to continue fighting for our men and women in uniform, veterans, parents' rights, farmers, the Second Amendment, and small businesses.
"You can also count on me to stand up to out-of-control spending and the failed policies of President Biden that have made us less safe, less prosperous and less free.
"I look forward to remaining the Sandhills' Congressman and again earning the support of the people of the 9th District."
Hudon is also chairman of the powerful National Republican Congressional Committee, which works to raise money across the country to elect Republicans to the U.S. House. Normally, that post would be fourth in line to be Speaker of the House, but recent turmoil among House Republicans trying to appoint a new Speaker after ousting Rep. Kevin McCarthy upset long established leadership notions. Hudson's name did not surface as a speaker candidate.
https://www.thepilot.com/news/hudson-announces-reelection-bid-for-congress/article_edbaaf88-74b0-11ee-88cb-f3a611ceba92.html